The FloraVoltaica project aims to develop a low weight, extremely flexible façade panel system that integrates nature into cities, producing and accumulating bio-photovoltaic energy and purifying the air. These panels, built with photocatalytic materials through 3D printing techniques, will include an energy storage system, monitoring sensors, and a management application, from which the user can monitor the health of the plants and energy production.
The energy generation technology used by FloraVoltaica is based on the plant photosynthesis process, called bio-photovoltaic technology. The excess organic matter generated by the plants during the photosynthesis process is transferred to the soil through its roots, generating a whole ecosystem of microorganisms that release electrons. These electrons are collected by electrodes, generating electricity. The system will also have an energy conversion and storage system based on the use of highly efficient batteries, designed to store low-voltage energy generated by the bio-photovoltaic energy.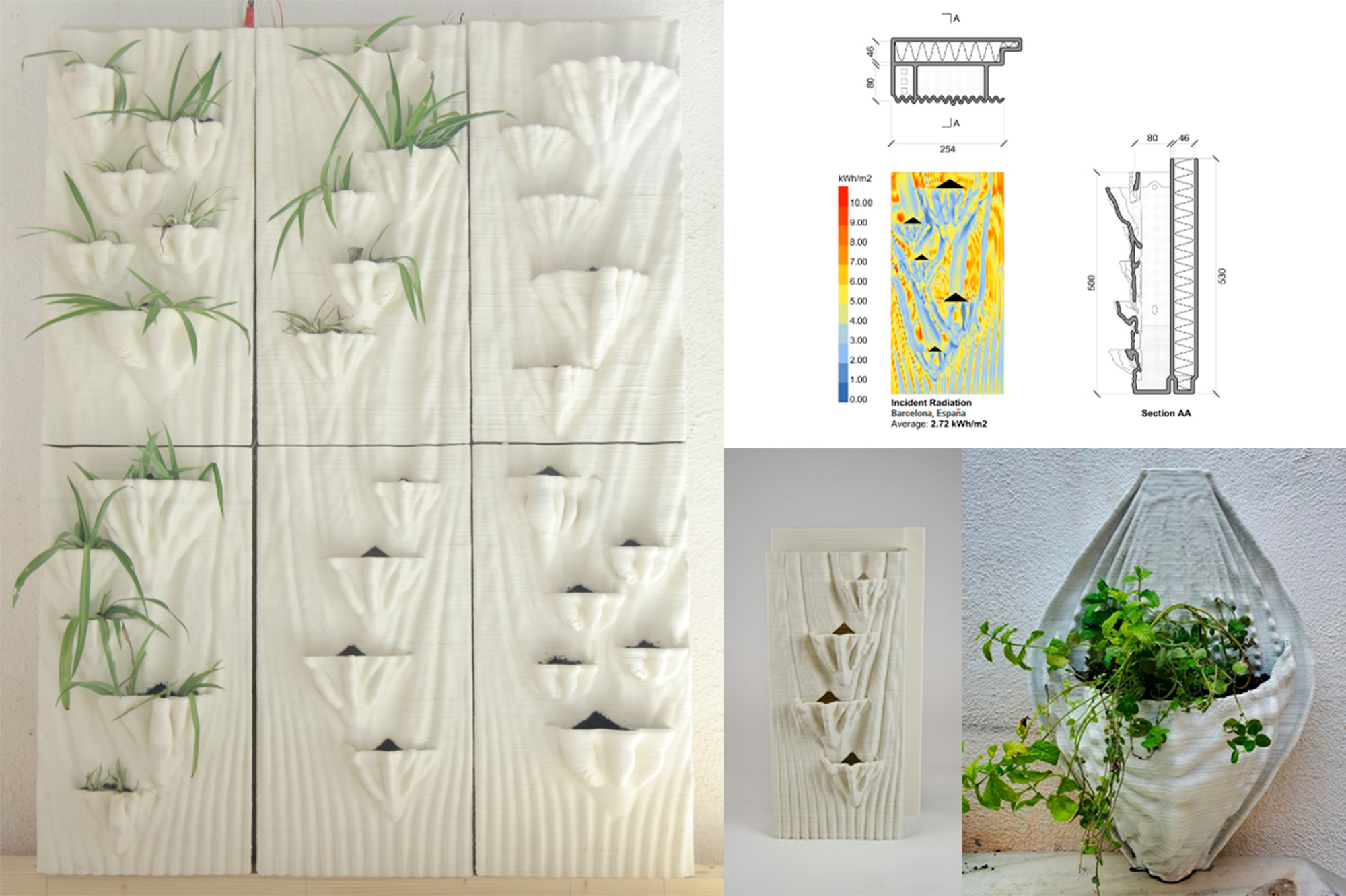 Year:
Funding Call:
Programa de apoyo a las Agrupaciones Empresariales Innovadoras, Ministerio de Industria, Comercio y Turismo (MINCOTUR)
Total Funding:
Partners:
Solartys Cluster (ES), Noumena Design Research Education (ES), Ketter Batteries (ES)
During the project development, the research has focused on:
Creating a lightweight panel manufactured with additive manufacturing techniques using Pure.Tech material and housing the substrate and cultivated plants.

Incorporating a bio-photovoltaic system integrated into the panel design for energy generation from the plants.

Developing a conversion and storage system for energy, based on the use of highly efficient batteries designed to store low-voltage energy like that produced by a bio-photovoltaic system.

Building a Floravoltaica monitoring system for data collection on plant health, environmental conditions (such as temperature or humidity), and energy production.

Installing an automated irrigation system whose operation is based on the analysis of data collected by the monitoring system.

Creating a monitoring and control platform that allows the user to directly and intuitively access the collected information and support decision making for the management of green infrastructure.
One of the successes of the project has been the development of an energy management system, which integrates an energy conversion system and ultra-efficient battery. Given the production system of the facilities, it has been necessary to innovate in the design of ultra-efficient low-power energy conversion systems and energy storage systems. To this end, a study of the state of the art has been carried out and tailored solutions have been designed and tested.
To learn more visit:
Year:
Funding Call:
Programa de apoyo a las Agrupaciones Empresariales Innovadoras, Ministerio de Industria, Comercio y Turismo (MINCOTUR)
Total Funding:
Partners:
Solartys Cluster (ES), Noumena Design Research Education (ES), Ketter Batteries (ES)